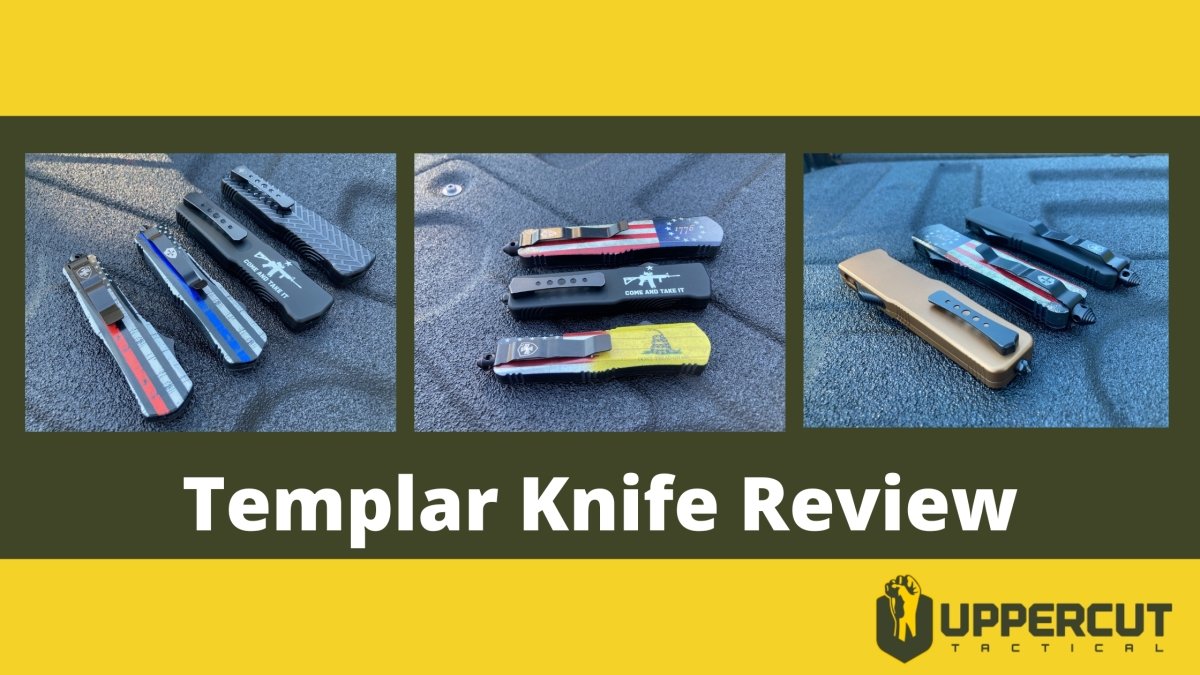 Templar Knives Review
For decades, the OTF knife market consisted of two options: cheap and potentially unreliable knives made at off-brand factories; or premium-quality, brand-name options at a price point of $200 or more, such as Microtech or Benchmade. Mid-market OTF knives you could trust for everyday carry were few and far between.
The situation changed when Templar Knives joined the market and began offering their own OTF automatic knives. Discover what a Templar OTF knife can do and why they are the best OTF knives under $100 on the market today.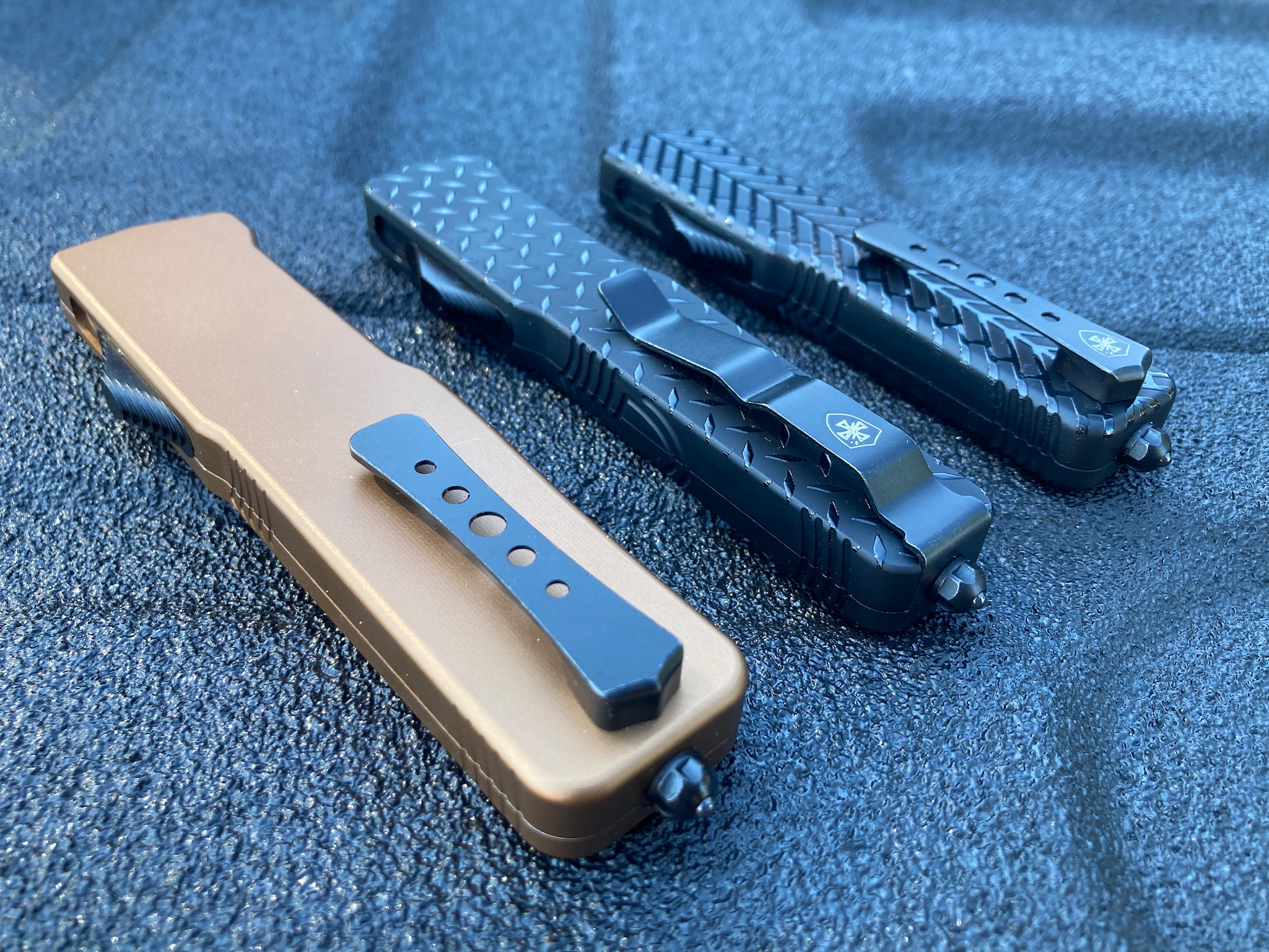 Left to right, Large vs Slim vs Small (all Premium)
Who is Templar Knife?
Headquartered in Waxahachie, TX, Templar Knife is a family-owned and operated knife manufacturing company founded in 2018. Templar Knife designs and assembles all of its products in the United States. The company states that the steel used to manufacture a typical Templar Knife is outsourced to keep overall costs down and pass the savings down to the customer.
Although the flagship Templar Knife product family is a collection of OTF knives, Templar also manufactures a selection of other knife products, such as auto-assist knives, kitchen cutlery, and neck knives.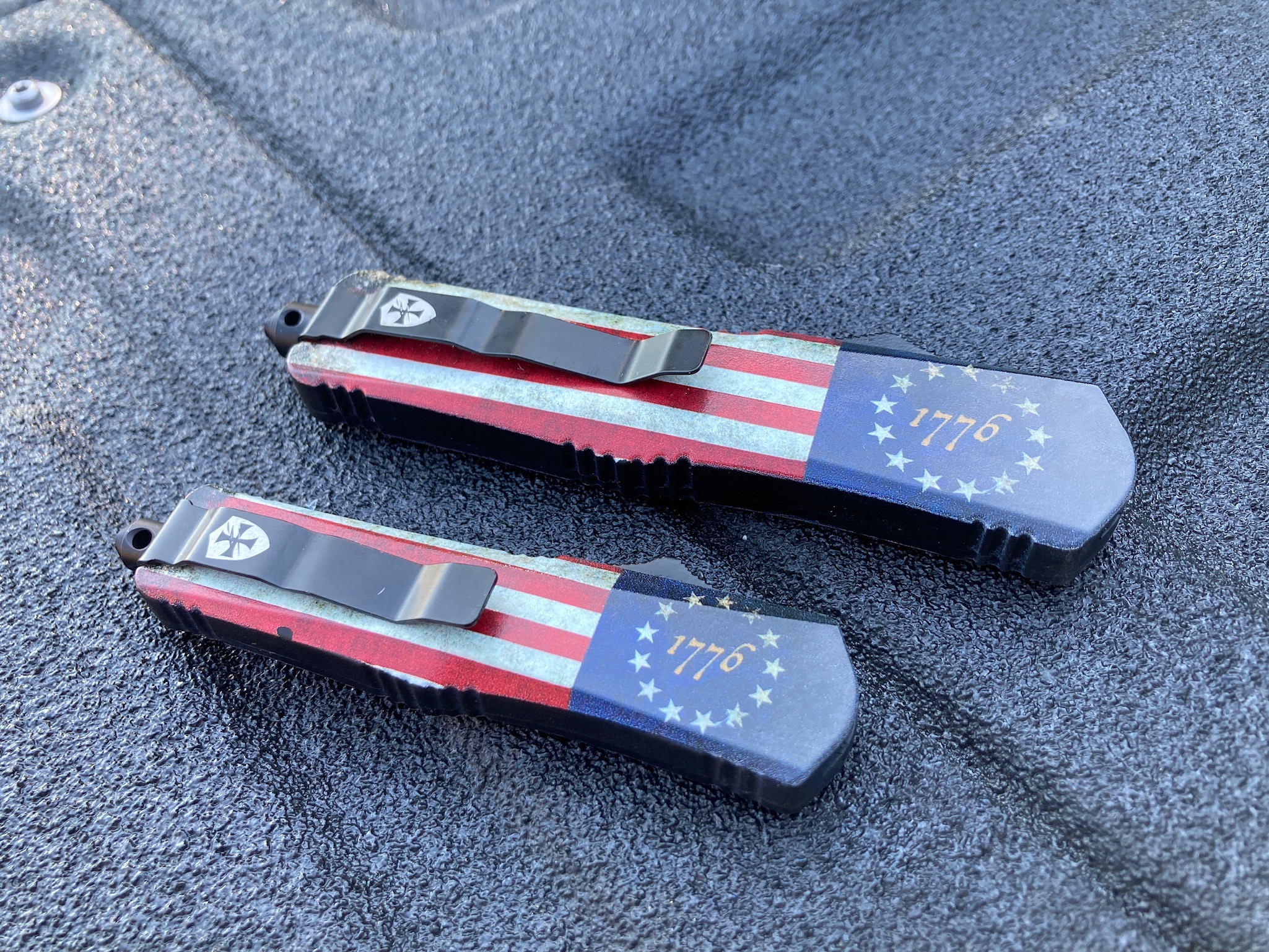 Gen II - Small vs Large Templar OTF
Where are Templar Knives made?
A typical OTF Templar Knife comprises a steel blade, an aluminum-zinc alloy handle, and assembly parts such as the OTF mechanism, the switch, and screws. Although the blade material may vary depending on the knife model (e.g., 440C stainless, ELMAX, etc.), all knife blades and specific small elements are imported from China.
Every element is shipped to the Waxahachie facility in Texas, where all knife models are assembled, inspected, and tested by Templar Knife personnel before shipping to customers.
Knife blades
Although Templar Knife blades aren't fully US-made, they employ high-quality materials in their construction and are very sharp.
The standard Gen II OTF knife uses a 440C stainless steel blade, available in three sizes (2.69", 3.43", and 3.5") and multiple blade shapes, including drop point, tanto, dagger, and serrated versions.
The 440C blades are heat treated to reach a Rockwell C hardness rating of 58 HRC, providing sufficient hardness for all everyday practical applications without being too brittle or prone to losing their edge quickly.
The pricier Premium-series OTF knives are available in three standard sizes (3", 3.16", and 3.5"), plus the CALI Micro, with a California-legal 1.85" blade.
Premium OTF knives use CPM-D2 steel instead of 440C. CPM-D2 is a powdered version of the high-durability D2 tool steel. Although knives using D2 blades are twice as expensive, they offer better edge retention and durability than the already high-performing 440C models.
While serrations are a matter of personal preference, if you choose a Templar Knife model with a serrated blade, the serrations occupy about 3/5 of the blade's length starting from the base. Additionally, dagger blades will feature serrations on both sides of the blade instead of just one.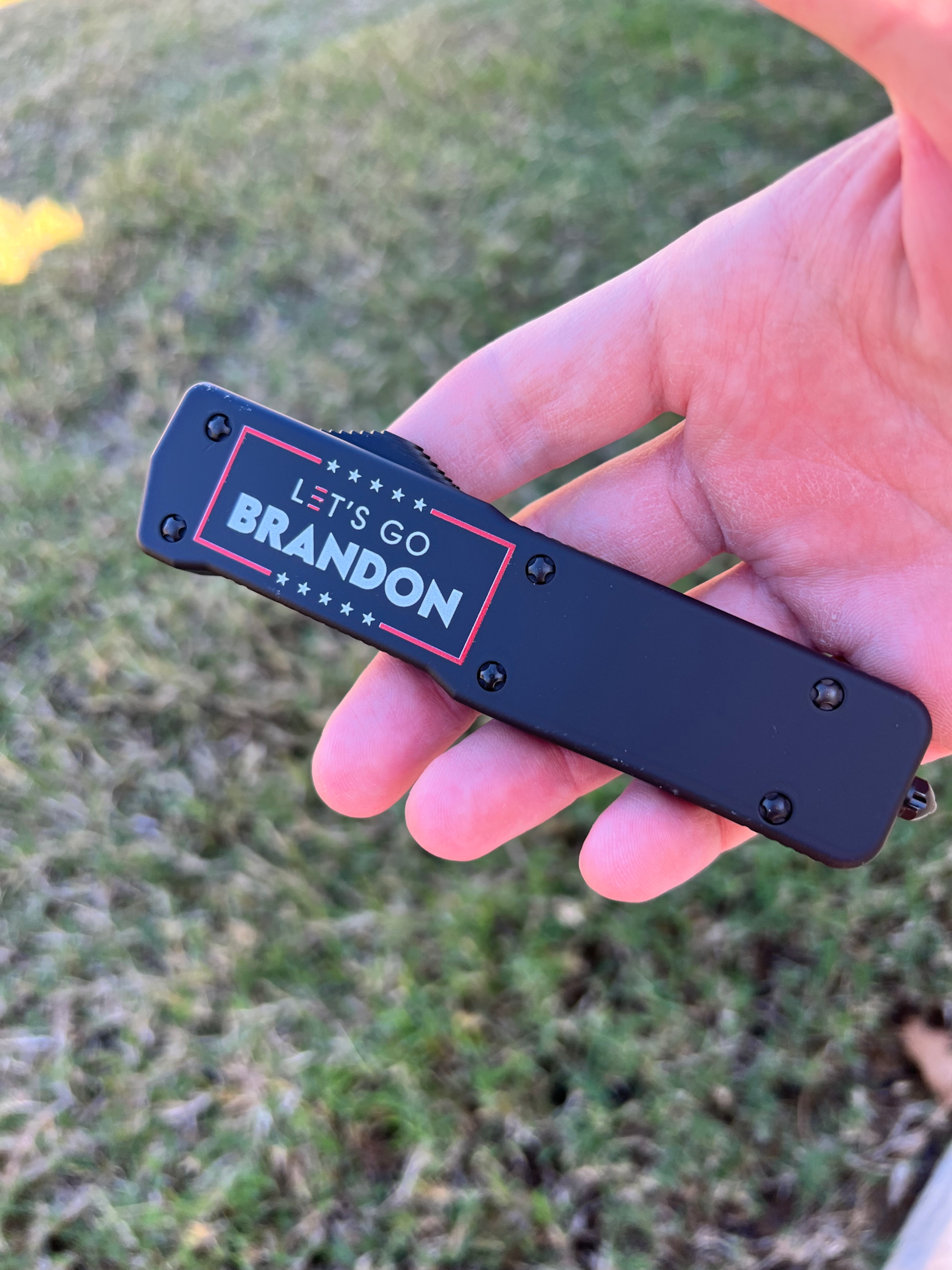 Premium, Large Templar OTF - in hand
Knife handle
All Gen II Templar OTF knife products use CNC-machined aluminum-zinc alloy handles, providing an excellent balance between low weight and a solid, durable feeling in the hand.
On the Gen II models, three knife handle sizes are available: Small (4.5" handle), Slim (5.125"), and Large (5.5"). With the blade fully extended, the knife's overall length depends on the selected size: 7" for Small knives, 8.5" for Slim, and 9" for Large.
Premium-series knives use T6061 aged aluminum instead of Al-Zn alloy, CNC-machined inside and out from a single solid billet. This highly durable, aircraft-grade material is naturally strong and resistant to corrosion, making it an excellent choice for hunting, bushcraft, and other outdoor activity.
On the Premiums, you'll find four handle sizes: Small (4.5" handle), Slim (4.93"), Large (5.25"), and CALI Micro (3.5"). Fully extended, the Premium models reach the following lengths: 7.5" on the Small, 8.09" on the Slim, 8.75" on the Large, and 5.35" on the CALI Micro.
Templar OTF knife handles feature an all-metal pocket clip, a glass breaker (not available on the Premium CALI Micros), and ergonomically shaped grips with textured ridges along the back, middle, and near the knife's business end. The shapes and ridges aid the operator with retaining a solid grip and offer better ergonomics than low-cost OTF knives, which are often described as little more than box-shaped.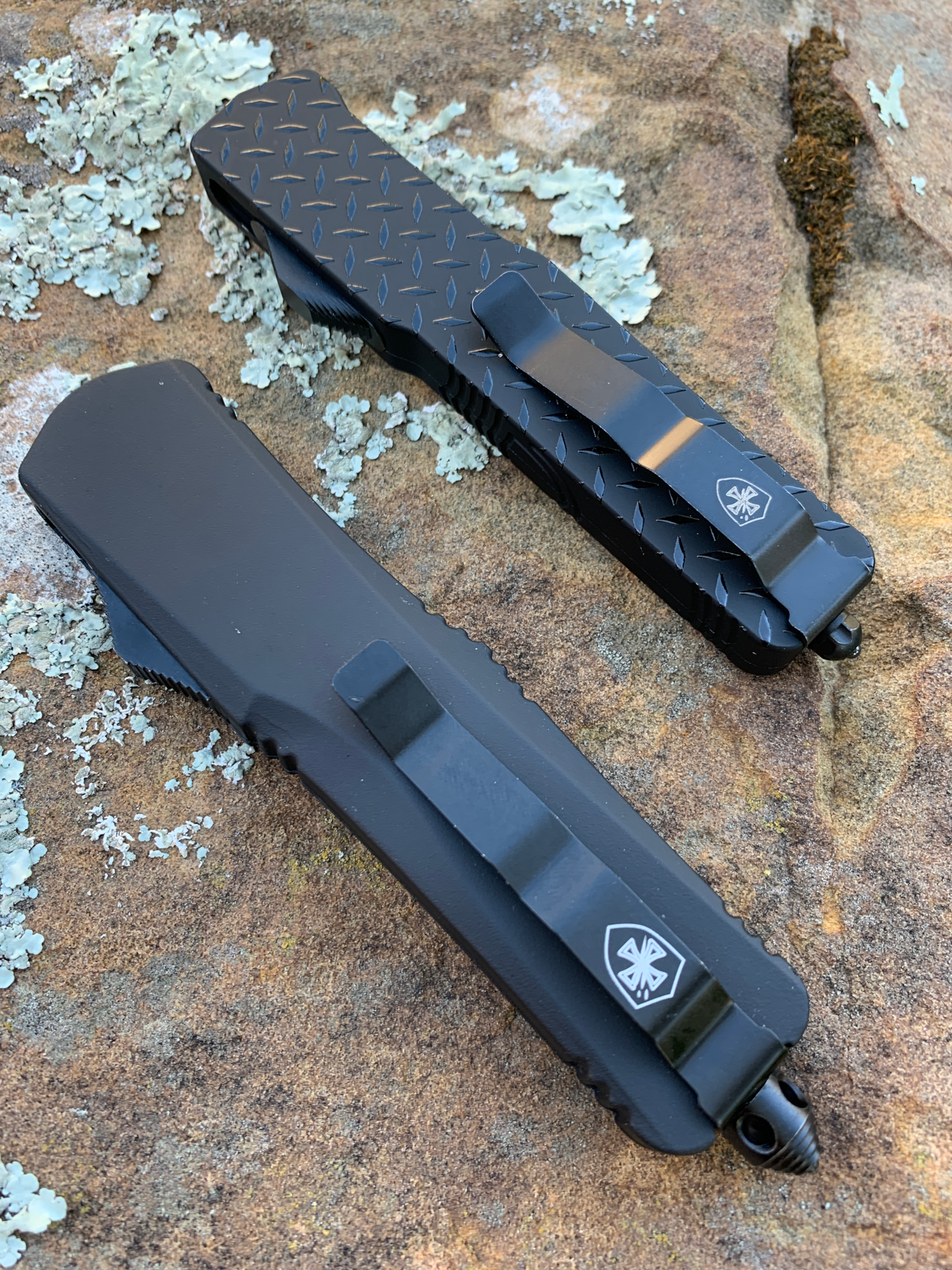 Gen II Large (bottom) vs Premium Slim (top)
Design options
Templar Knife offers its selection of OTF knife products in various handle colors and textures. Besides standard options such as black rubber and carbon fiber, you can order a Templar knife in one of their many printed offerings, such as the Templar Cross, American Flag, Texas Flag, "We The People" constitution-themed patterns, "Back the Blue" thin blue line flags, and many other patriotic designs.
Regardless of your preferences, whether you like the Gen IIs or the Premiums more, Templar Knife has a handle design and color for you.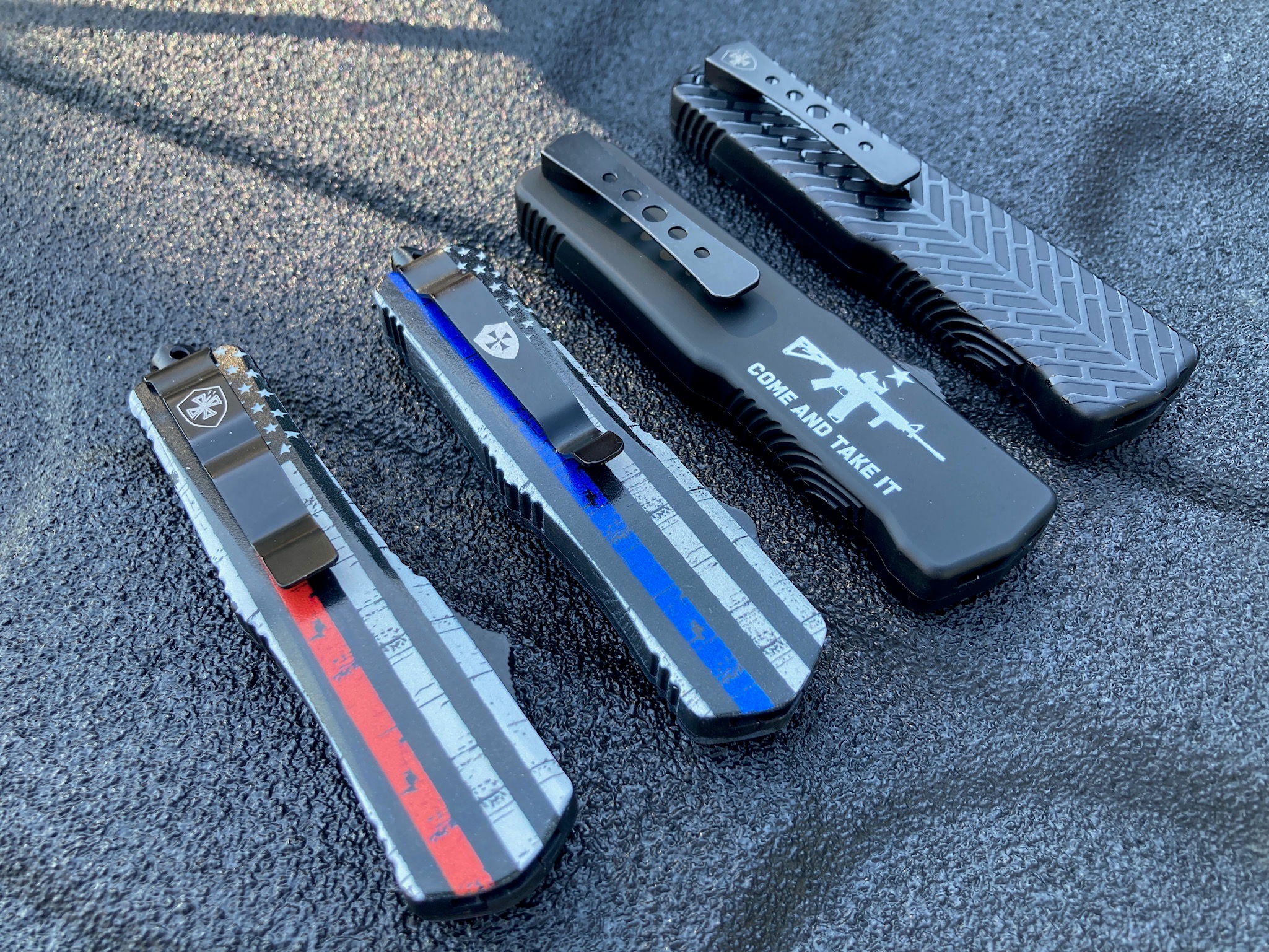 Gen II Smalls (left) vs Premium Smalls (right) in various handle designs
OTF functionality
A good OTF knife should deploy the blade quickly at the flick of a switch or the press of a button. Templar OTF knives use sliding switches located on the spine of the knife handle, in the ideal location for one-handed thumb activation.
Standard Gen II models are double-action OTF knives, meaning you can also use the switch to retract the blade back inside the handle. This eliminates the need to use the other hand or push the blade against a hard surface.
Fortunately, the build quality is excellent, and the deployment switch isn't excessively light. On the Gen II models, the action is heavier, requiring conscious and applied effort to use the switch, which functions as a safety feature all on its own. You won't have to worry about accidentally deploying the blade while the knife is still in your pocket.
Additionally, if the blade fails to deploy all the way (or if the point hits an object before fully extending), the user may simply manually pull the blade out to reset the spring mechanism and re-arm the switch.
During our testing, we found that the release switch on the Premiums requires less effort to use than the Gen II. While this can be an advantage if you need an easy, effort-free blade release, it does translate into a slightly increased risk of accidental deployment.
Performance and everyday practicality
As an automatic knife, the primary purpose of a Templar OTF knife is the instant availability of the blade at the flick of a switch. The design inherently allows for double-edged blades, which are also naturally safer than a traditional side-folding knife, as there is no danger of the blade hitting your fingers during regular operation.
A large part of any OTF knife's practicality depends on the blade shape. Double-edged, dagger-style blades are primarily used for poking and thrusting motions and are less practical for cutting and slicing than the more traditional blade styles. For EDC purposes, we recommend sticking to drop-point or tanto.
As an everyday carry (EDC) item, Templar OTF knives like the Gen II are durable and practical, and perform their OTF-specific functions without issues or failure. The greater variety of blade options than side-folders and the different blade and handle sizes can suit the carry needs of any individual.
Whether you need to slice fruit, cardboard, or rope, the blades are sharp and maintain their edge for a long time. Maintenance is easy; the manufacturer recommends using a few drops of Rem Oil firearm lubricant to remove dirt and grime from the mechanism.
While the Templar Premium-series OTF knives are more expensive, look nicer, and feel better in hand, the reliability is comparable to the Gen IIs, providing little to no functional advantages over the less expensive model for EDC carry, in our testing.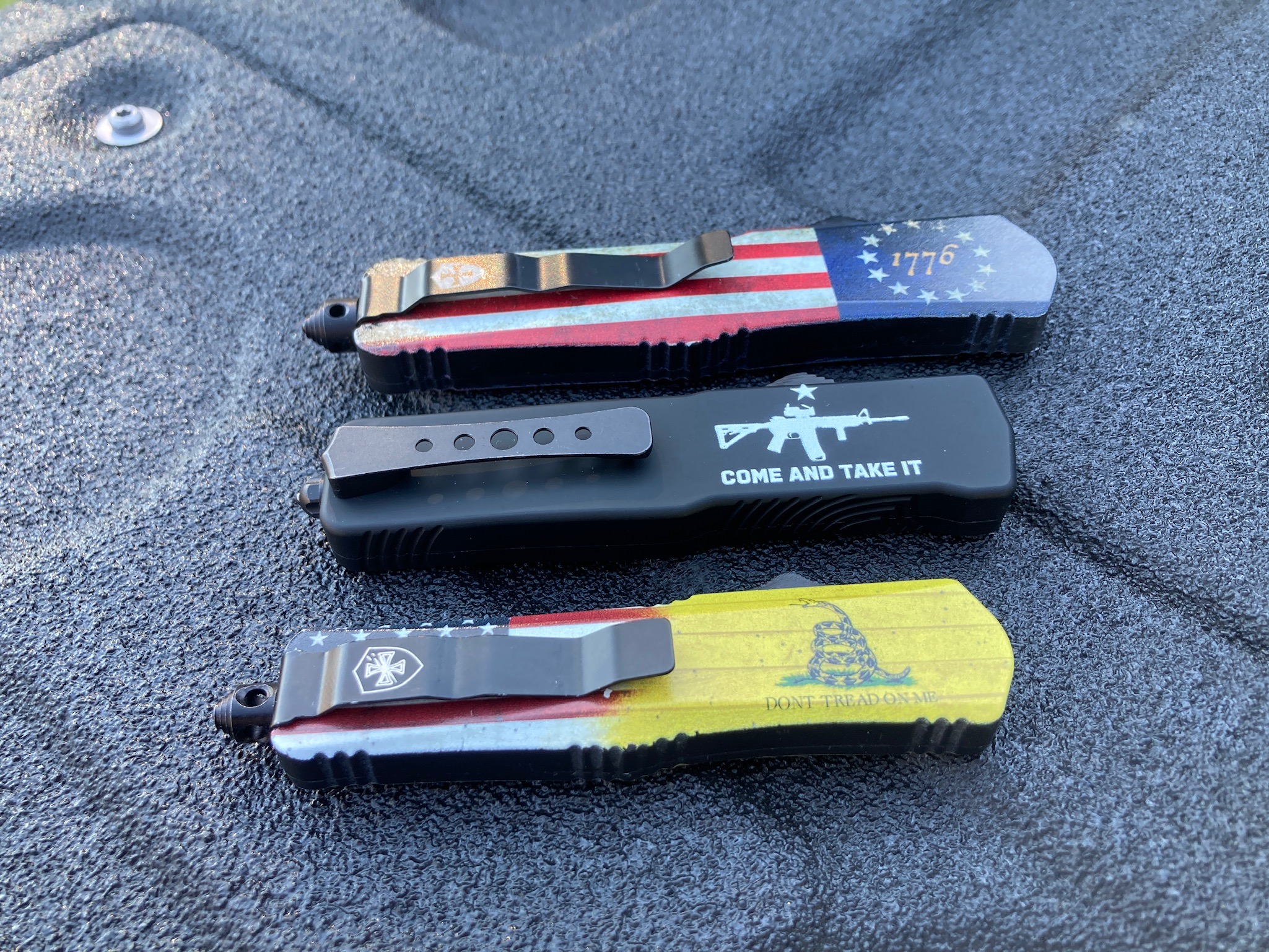 Top to Bottom: Gen II Large vs Premium Small vs Gen II Small
Shop Quality OTF and EDC Knives at Uppercut Tactical
At Uppercut Tactical, we strive to help American citizens cultivate the spirit of patriotism with the value of preparedness. We believe the knife is one of the most versatile everyday carry tools available, and part of our mission is to ensure you have access to the highest-quality knives for the best possible price. Shop our selection of Templar OTF knives today, and contact us if you have any questions about our inventory.
1 comment