Where To Buy Bulk Canned Food - Our Go-To Brand.
Where To Buy Bulk Canned Food - Our Go-To Brand.
Buying food in bulk is one of the great tips that most preppers give to those new to preparedness. However, it can be daunting at times. With the numerous food options, varying prices, and different brands for you to choose from, it is no joke when buying bulk canned food. But don't fret just yet! In this article, we will be talking about where to buy bulk canned food. Namely, the best-canned food brand on the market - My Patriot Supply's Ready Hour - and which of their bulk options are the best for you and your family.
Remember that food is essential for every human and being prepared for any natural disaster, food shortage, or any SHTF situation is the best you can do for your survival and safety. We have chosen our Top 5 best bulk canned food options from My Patriot Supply: 
We will be giving you an overview and review as to what to expect from the emergency food supply products that My Patriot Supply has and what are pros and cons when buying these products. Read to learn more.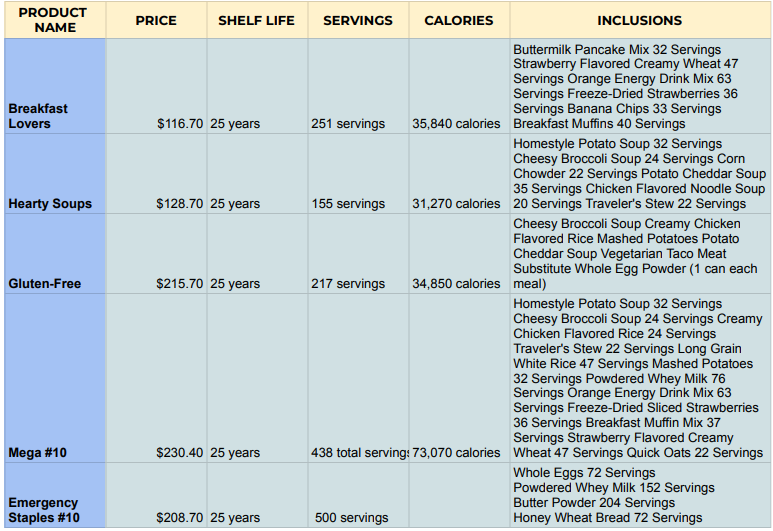 What are the Best bulk canned foods to stock up on?
My Patriot Supply, with the motto "It's Not Just Food. It's Freedom", offers  various items to cater to your basic prepper needs such as survival supplies and emergency survival food. This also includes bulked canned goods. Here are our Top 5 best picks from My Patriot Supply's Ready Hour #10 canned goods:
1) Best Bulk for Breakfast: Breakfast Lovers
This bulk is perfect for preppers who love all-day breakfast. This Breakfast Lovers bulk has 251 servings with six fan-favorite canned breakfast foods. It includes bulk canned fruit specifically freeze-dried strawberries and banana chips that you can top on your pancakes and flavored wheat. This also includes an orange fruit energy drink mix and breakfast muffins. For only $116.70 you can have 35,480 calories already which makes an excellent addition to your prepper pantry. Not only is it great for emergencies, but it is also perfect for camping trips and large group gatherings with your loved ones. This Breakfast Lovers bulk can last 25 years of shelf life.
These great meals are stored in durable steel #10 cans that ensure the food is protected from pets, intrusive forces, and extreme weather. Moreover, bulking is very easy to do considering they are packaged in cans which makes them easy to stack and store without any refrigeration required.
Pros: Perfect for breakfast lovers with a selection of breakfast favorites
Cons: Not enough selections considering that there are only two main meals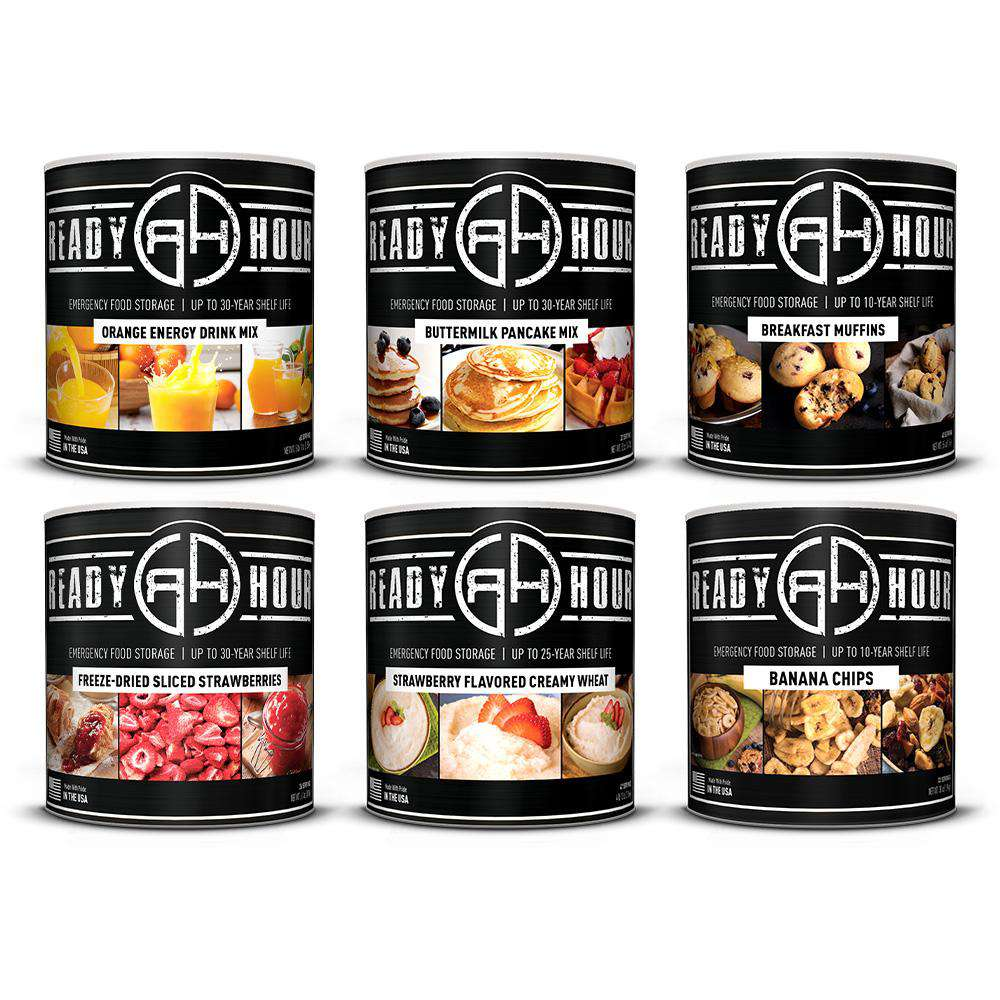 Soup for the Soul: Hearty Soups
Staying warm and healthy is not a problem with this wholesale option. The Hearty Soups bulk includes six delicious soups that ensure sustenance for you and your family. For only $128.70 you already have 155 servings with 31,270 total calories. This is great for storms, hurricanes, and other natural disasters that would require you to keep warm and fed. The meals packaged in cans are also built to last for 25 years.
From homestyle soup with potatoes, chicken soup, and even a traveler's stews—this pack has you covered for all your soup needs and cravings for emergencies and camping. It is very convenient and budget-friendly to buy wholesale these dishes to always be ready during disasters
Pros: Great flavor with potatoes, tomatoes, and beans that will keep you and your family full
Cons: Does not include enough protein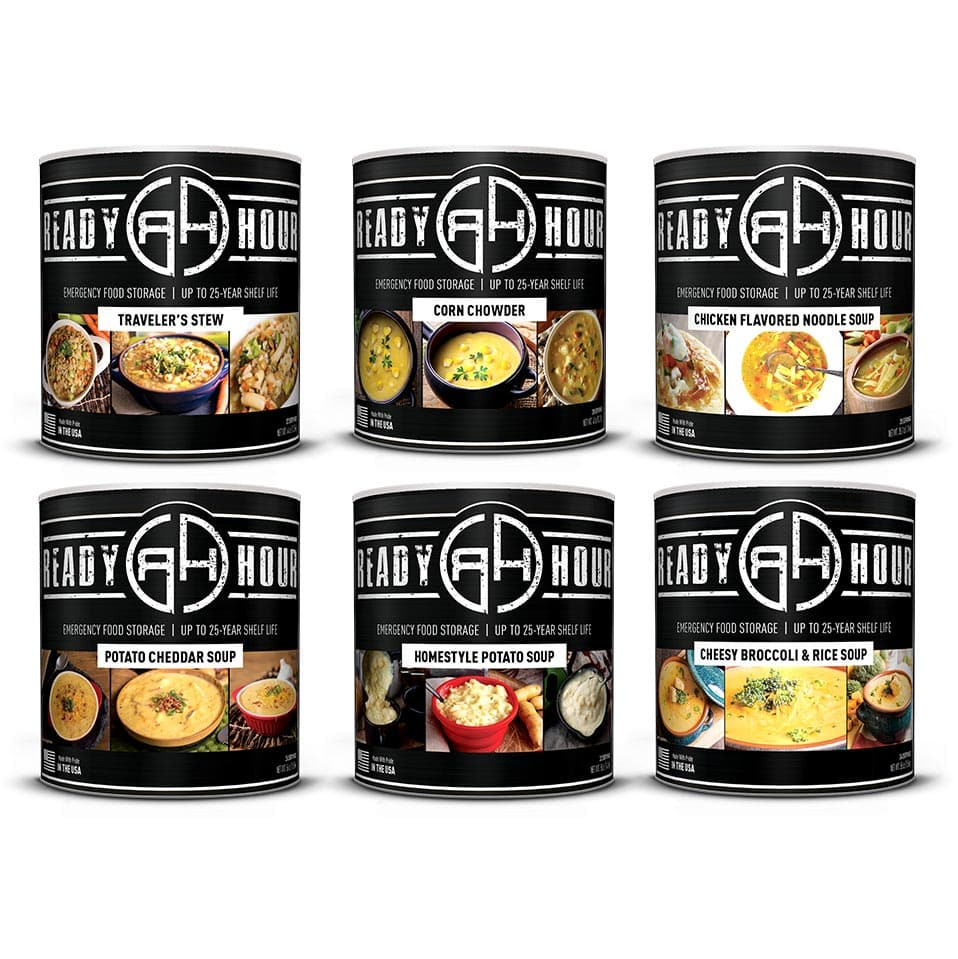 The Gluten-Sensitive Bulk: Gluten-Free
Food sensitivity should not be a hindrance to you and your family's emergency survival and preparedness. My Patriot Supply has a wide variety of gluten-free food options and this includes this amazing gluten-free bulk. This package includes six gluten-free canned meals including Mashed Potatoes, Creamy Chicken Flavored Rice, and Cheesy Broccoli Soup. They also have whole egg powder than can be great as an addition to your meals and vegetarian taco meat substitute to make your favorite salsa and beans recipe.
For only $215.70 you already have 217 servings and a total of 34,850 calories. It is definitely worth it especially when you have a family member who is gluten sensitive. What is also great with these products is that it is easy to cook just by adding water. These meals are highly packed with nutrition that's why we highly recommend this option.
Pros: Perfect for families who have gluten-sensitive members or have a preference for gluten-free meals
Cons: Have two meals with starch which might be disliked by certain customers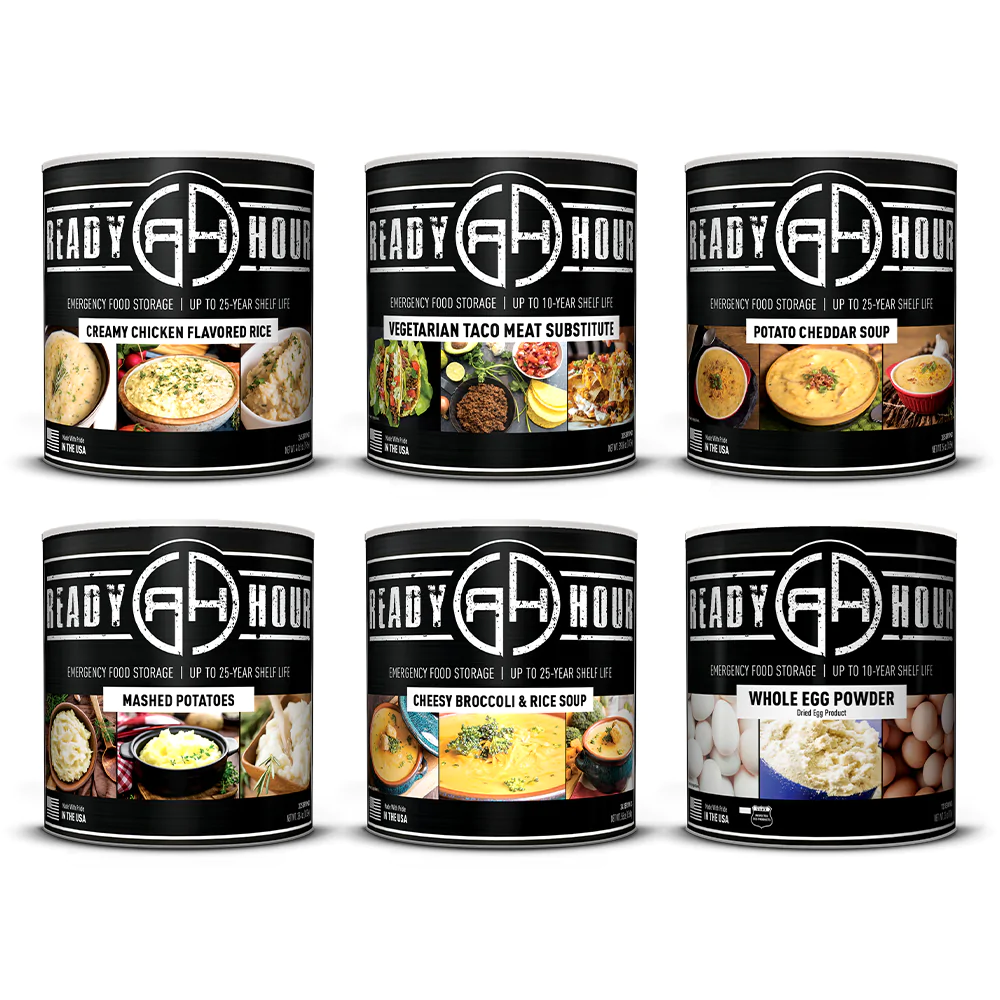 Back to Basics: Emergency Staples
This option is the best for people who see themselves making their own food in times of emergency. The Emergency Staples bulk does not have any meals instead, it has your basic, yet essential items, that are great additions to your meals. For only $208.70, you already have 500 servings of Whole Egg Powder, Powdered Whey Milk, Butter Powder, and Honey Wheat Bread. With these ingredients and a few other basics, you can already make a spruced french toast with healthy ingredients. What is also great about this is its shelf life of 25 years when stored properly. 
Most of these essential items are the first to be out of stock from our stores, thus getting this pack will be a great decision for everyone to make.
Pros: Great for food shortages and enhancing meals
Cons: Some people may consider this to be not a priority item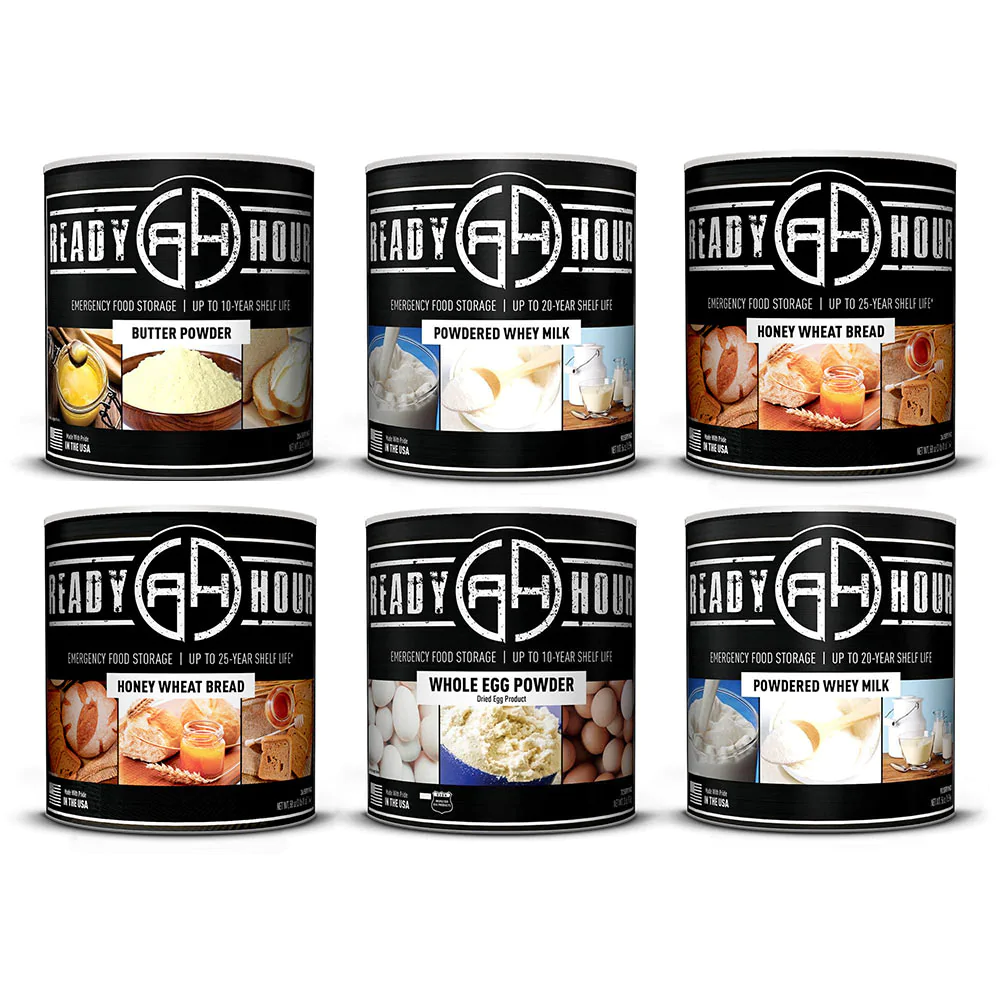 Flavor Town Pick: Mega #10
For our flavor town pick for this category, we have the My Patriot Supply Mega Bulk. This deal has 12 meals with 438 total servings. We think that this is definitely the best out of the bunch because of how many options you can get from this pack. This pack is perfect as it has everything that you and your family need for breakfast, lunch, and dinner. From essential starch such as mashed potatoes to traveler's stews, and even fruit and liquids. 
The amount of food in this pack is definitely worth it. For only $230.40 you already have dishes with 73,070 total calories and are rich in nutrients. This is great for families who are planning to bulk immediately without the hassle of preserving their food and supplies. Just like the other packs, the meals are packaged in cans which makes them easy to store in bunks and garages.

Pros: Very convenient for stocking and bulking because of the amount of food
Cons: Can be expensive for beginner preppers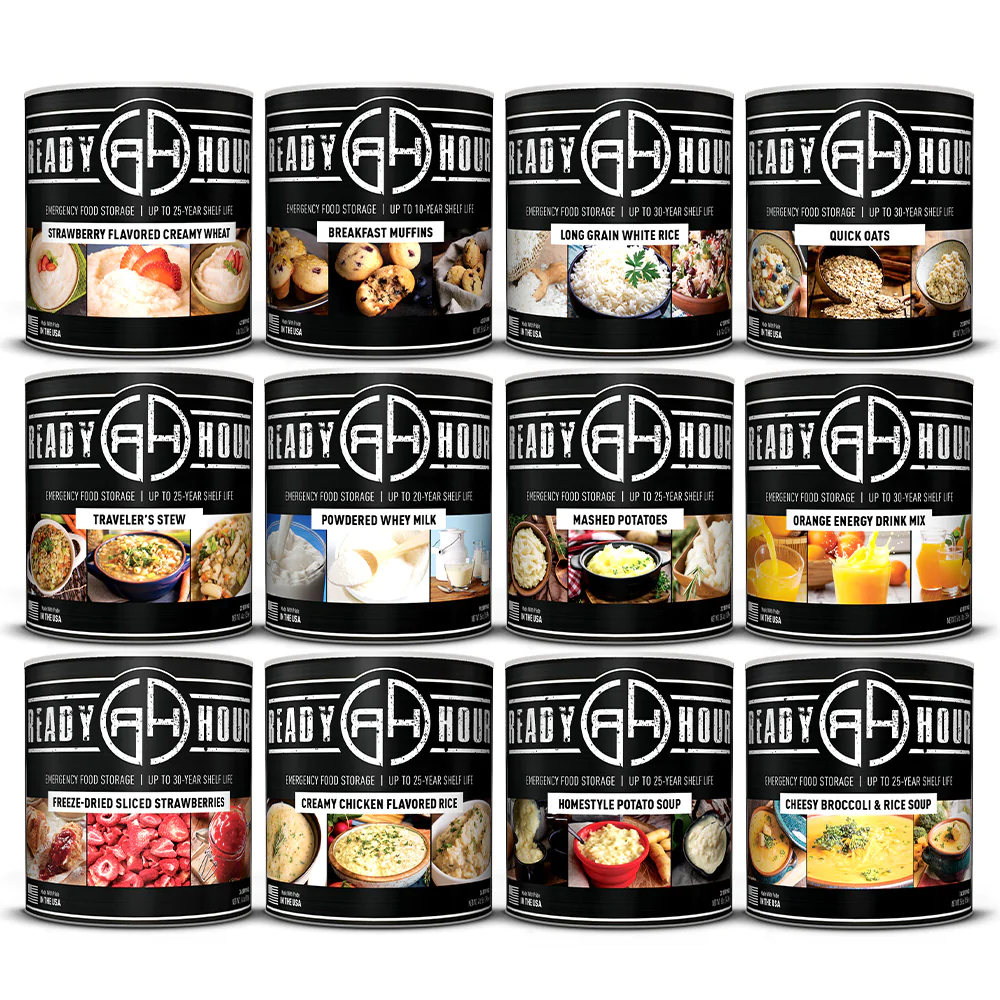 Conclusion
Bulking canned goods including canned vegetables and fruit is a great method for building your emergency supply pantry. Not only is it cost-efficient, but it is also a great amount of food that can ensure your family's safety and survival. Amidst the food crises, the ongoing war, and numerous heightened natural disasters you must always be ready. If you are still waiting for the perfect time to start prepping then this is the sign that you need. Try the options that we have discussed and let us know how it goes!
Methodology
Uppercut Tactical has chosen these bulk canned goods based on various factors. We evaluated Factors included are price, serving, total calories, inclusions, and shelf life. We deem that these options are great for bulking for your emergency supply, preparedness, and safety. Thus, creating our top picks from My Patriot Supply's bulked can options.
0 comments