Where Are Stun Guns Legal?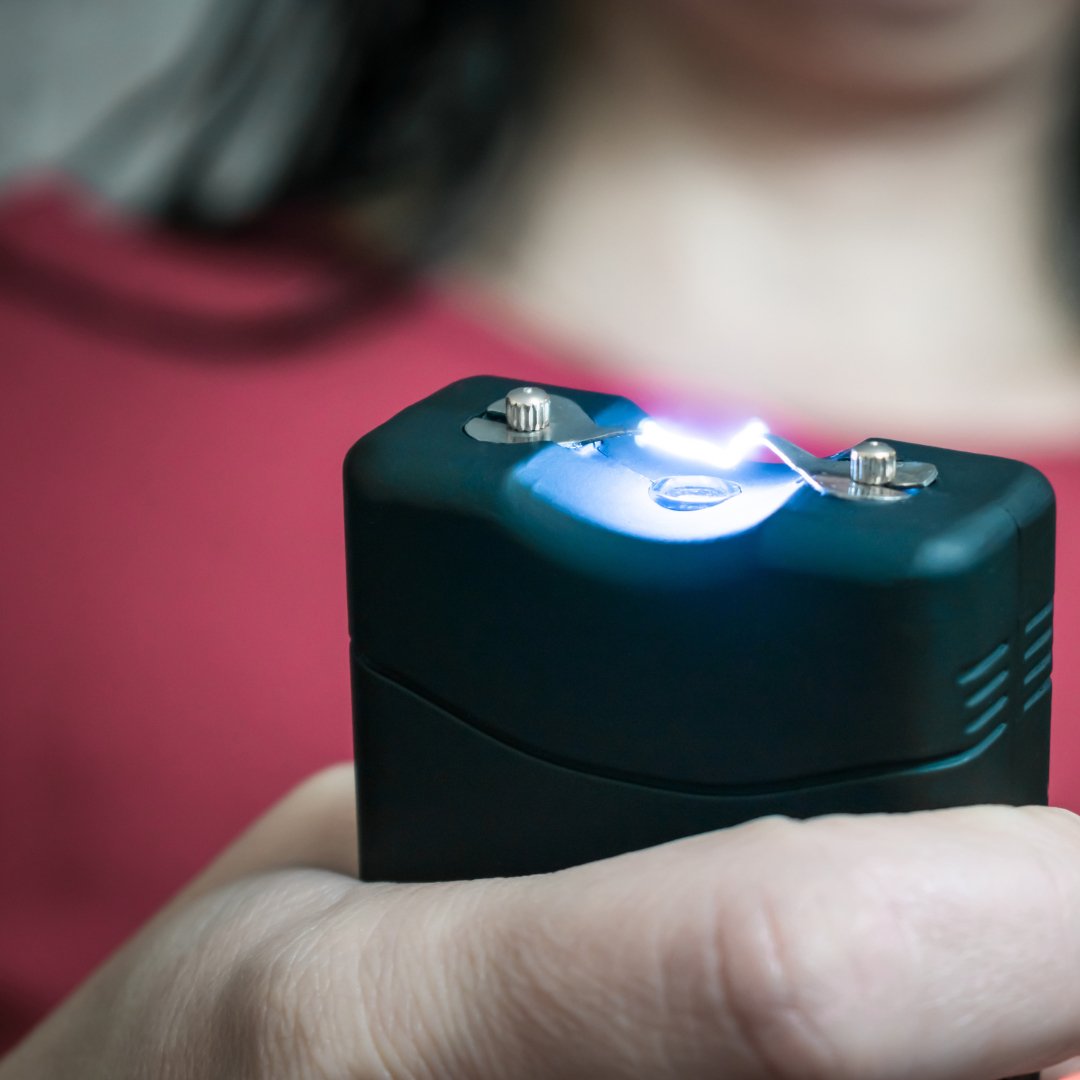 Electroshock weapons (ESWs), such as stun guns, Tasers, and similar devices, are popular for self-defense. They use electricity to produce painful shocks and bright, loud arcs, making them useful for deterrence and self-protection.
However, the legality of stun guns and other ESWs is not uniform across the United States. Stun gun laws vary depending on the state and locality, making it crucial to determine whether they are legal to own or use before purchasing one.
Stun Gun Laws By State
Stun guns and other ESWs are not considered firearms, meaning they fall outside of the scope of many federal weapon laws. Additionally, no federal law specifically restricts the possession or use of stun guns nationwide, meaning stun gun regulation is mostly left to the states.
While the specifics of each state's laws vary, virtually every state defines a stun gun as a weapon or an equivalent term, like "dangerous weapon." Like pepper spray and other less-lethal tools, those under 18 are typically restricted from possessing or using stun guns for self-protection. Most states also require people looking to purchase a stun gun to have no prior felony convictions.
Stun gun regulations at the state level can be broadly categorized into two groups: states with minimal to no restrictions on stun guns and states with limitations on ownership, carry, or usage.
Where Are Stun Guns Legal?
Most states impose no specific restrictions on owning, carrying, or using a stun gun. These states allow you to purchase a stun gun, Taser, or other ESW without licensing, training requirements, background checks, or other conditions.
States and jurisdictions where stun guns are broadly legal include:
Alabama

Alaska

Arizona

Arkansas

California

Colorado:

When explicitly used for self-defense purposes only

Connecticut:

Must be 21 or older

District of Columbia (D.C.)

Florida

Georgia

Idaho

Kansas

Kentucky

Louisiana

Maine

Michigan

Missouri

Montana

Nebraska

Nevada

New Hampshire

New Mexico

New York

North Dakota:

Illegal to carry on school property

Ohio

Oklahoma

Oregon

Pennsylvania

South Carolina

South Dakota

Tennessee

Texas

Utah

Vermont

Virginia:

Illegal to carry in airports, school property, or on private property with explicit or posted prohibitions against stun guns

Washington:

Illegal to carry on school property

West Virginia

Wyoming
Which States Regulate Stun Gun Ownership, Usage, and Carry Rights?
A few states impose restrictions on stun guns, making it more challenging to own, purchase, use, or carry them in self-defense. For example, some require a permit to carry, while others are subject to restrictions like background checks.
While stun guns and tasers are legal in these states, ensure you meet all legal requirements to avoid breaking the law. The following states impose stun gun and taser laws:
Delaware:

Legal to own and purchase, but a CCW permit is required to conceal-carry

Hawaii:

Must be 21 or older to own, must pass a background check to purchase

Illinois:

Must possess a valid Firearm Owner's Identification (FOID) card

Maryland:

Must pass a background check to purchase

Massachusetts:

Must possess a valid Massachusetts License to Carry to purchase and conceal-carry

Minnesota:

Must pass a background check to purchase

Mississippi:

Must possess a valid Mississippi Concealed Carry Permit or Enhanced Carry Permit to conceal-carry

New Jersey:

Legal to own and purchase, illegal to open carry, illegal to carry on school property

North Carolina:

Must possess a valid North Carolina Concealed Handguns Permit to conceal-carry, and it's illegal to carry on school property

Wisconsin:

Must possess a valid Wisconsin Concealed Weapons License to conceal-carry
In What States Are Stun Guns Illegal?
As of October 2023, stun guns are technically legal in all 50 states. Hawaii and Rhode Island were the last states to criminalize the ownership of stun guns, Tasers, and other ESWs.
Hawaii:

On January 1, 2022, all weapons defined in Hawaii as "electric guns," which include all types of ESWs, have been legalized with the passage of Hawaii House Bill 891.
Rhode Island:

In March 2023, federal judge William E. Smith ruled Rhode Island's stun gun ban unconstitutional. However, the state laws prohibiting stun guns are still on the books, meaning the status of the law is currently uncertain.
New York:

Are stun guns legal in NY? Like Rhode Island, stun guns in New York occupy a legal gray area. While state laws prohibit the ownership of these weapons, a 2019 federal case ruled the ban unconstitutional, making them technically legal to own.
In 2023, Assembly Bill A212 was introduced to the New York State Senate. This law would remove the prohibitions from New York's state laws and make stun guns legal. As of October 2023, this law is still under consideration.
Get Stun Guns and Self-Defense Gear at Uppercut Tactical
When used responsibly and lawfully, stun guns are excellent self-defense tools. Uppercut Tactical is dedicated to helping every law-abiding American citizen become better prepared against the dangers of everyday life.
We carry
self-defense tools
, including stun guns,
tactical knives
, defensive knuckles, and other
preparedness gear
to help you prepare for any eventuality.
0 comments